Wednesday, December 4, 2019 Next Date
11:00 am - 12:00 pm
Wednesdays @ 11AM at St. Mary, 1973 Cultra Ave., Thursdays @ 7PM at St. Stephen, 7921 St. Stephen Road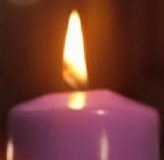 "Interrupted by Hope"
Advent is a time of waiting.
A time of longing. A time of holding open
hands towards God.
We gather in hope that God will come and
dwell among us. We gather in anticipation
that God will interrupt our lives - with Hope.
Join us for a time of prayer and discussion.