Sunday, February 17, 2019
12:00 - 1:30 pm
St. Mary's Anglican Church - 1973 Cultra Avenue, Saanichton
This event has already occurred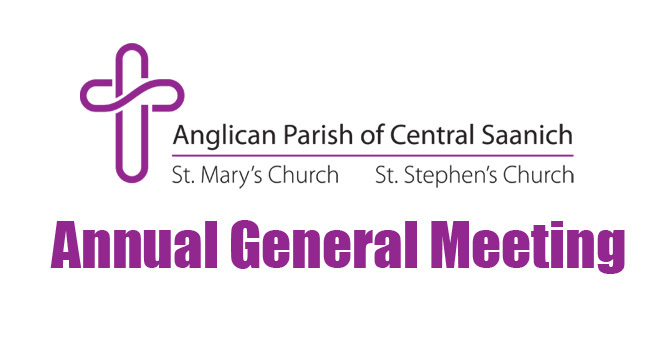 The Annual General Meeting (AGM) will be held on Sunday, February 17, 2019
All members of the Parish of Central Saanich (St. Mary's and St. Stephen's) are invited to attend the AGM. The Annual General meeting will be held in the context of a Holy Eucharist with a break for refreshments, followed by the meeting, then the conclusion of the service.
Annual Reports will be available at both services on Sunday, February 10th. Parishioners are encouraged to pick up reports in advance of the meeting. Please take the time to read your report prior to the meeting. It will reduce the length of the meeting if everyone is fully prepared. We are targeting to conclude as scheduled.
We will begin with a Combined Eucharist Service at 10:00 am.

Following the Eucharist we will retire to the Hall for refreshments. Please bring simple, easy to pick up, finger food (e.g. sandwiches), enough for yourself and a few to share.

Then at approximately 12:00 pm we will move back into the church for the meeting portion of the AGM, to be chaired by Lon. We will then conclude the Service by being Sent into the World.
Note: If you cannot arrange to join us for the Eucharist and/or refreshments, you are still very welcome to join us for the meeting portion of the AGM that will start at approximately 12:00.
The agenda for the meeting of the AGM is as follows:
Review of the financial statements for 2018

Adoption of the 2019 Budget for both St. Mary's and for St. Stephen's

Appointment and election of positions for 2019

Outreach & community support programs, and the associated priorities and funding, will be determined.
Many thanks to those who prepared the Annual Report, most of which is expected to be received or approved at the meeting. Bring your fellow parishioners out to this important meeting.