Sunday, September 30, 2018
11:00 am - 12:00 pm
This event has already occurred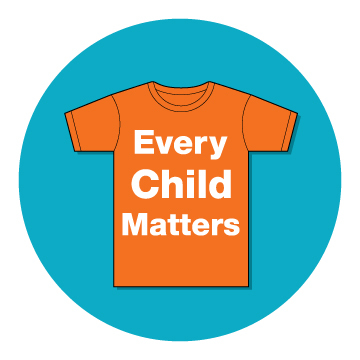 On Sunday, September 30, supporters for the sharing of the impact of the Residential Schools will wear orange shirts.
For example, for Phyllis (Jack) Webstad:
"I went to the Mission for one school year in 1973/1974. I had just turned 6 years old. I lived with my grandmother on the Dog Creek reserve. We never had very much money, but somehow my granny managed to buy me a new outfit to go to the Mission school.
I remember going to Robinson's store and picking out a shiny orange shirt. It had string laced up in front, and was so bright and exciting – just like I felt to be going to school!

When I got to the Mission, they stripped me, and took away my clothes, including the orange shirt! I never wore it again.
I didn't understand why they wouldn't give it back to me, it was mine! The color orange has always reminded me of that and how my feelings didn't matter, how no one cared and how I felt like I was worth nothing. All of us little children were crying and no one cared."
More of her personal story can be found at this site.
You can purchase your very own Orange Shirt for only $15, plus $2.50 for shipping and handling. To receive your Orange Shirt by September 30, please order it here no later than September 19.
For more information, click Here or contact Fern Perkins.